Two thirds of our planet is covered with water. Much of the water is found in lakes, rivers, and oceans. Water exists on our earth in three forms: solid, liquid, and gas. The water in lakes, rivers, and oceans is in liquid form. However, every day some of this liquid turns to gas. As the sun shines, some of the water evaporates. Evaporation means turning from water to water vapor.
What happens to the water vapor in the air? Some of it mixes with the air near the ground. Some of it rises into the sky where the air is cooler. In this cooler area, the water vapor turns back into little droplets of water. This is called condensation. The droplets of water form clouds. As the water droplets get larger and heavy they fall from the clouds as rain. Or if it is cold enough, snow. This is called precipitation. Rain and snow are the most common forms of precipitation.
Evaporation, condensation, and precipitation form what is called The Water Cycle. The Water Cycle never stops. It goes on and on. It happens over and over again.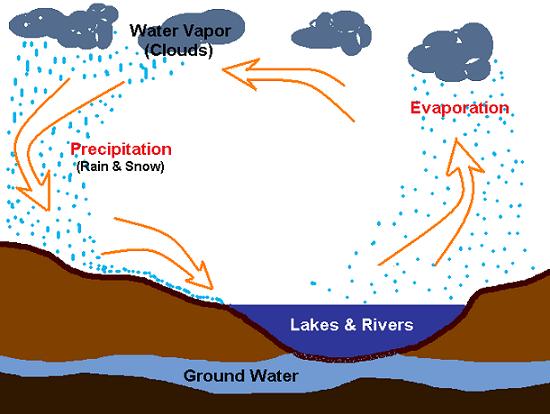 Directions: Answer the questions about The Water Cycle.
Puddles get smaller and smaller due to
evaporation
condensation
precipitation
Rain falling from the sky is
evaporation
condensation
precipitation
Water vapor turning back to a liquid is
evaporation
condensation
precipitation
Hail and sleet are types of
evaporation
condensation
precipitation
The sun shining causes
evaporation
condensation
precipitation
Water exists in three forms on earth, solid, liquid and
rain
ice
gas
Rain and snow are the most common forms of
evaporation
condensation
precipitation
Most water ________ comes from the ocean.
evaporation
condensation
precipitation
Water exists on earth in ______ forms.
two
three
four
The Water Cycle
stops at night
is rain and snow
never stops
Evaporation, condensation, and precipitation form
The Water Cycle
water droplets
clouds and rain
Precipitation falls from the
rain
clouds
sky