In 1803 the United States made the Louisiana Purchase. Thomas Jefferson was the 3rd President of the United States at the time. Jefferson bought the land from France. The land covered the Mississippi River Valley and land to the west. It also included the city of New Orleans.
President Jefferson sent Lewis and Clark to explore the land. Lewis and Clark traveled all the way to the Pacific Ocean. They traveled through the lands of the Cheyenne, Crow, Chinook and others. They saw herds of buffalo.
Look at the map of the Louisiana Purchase below.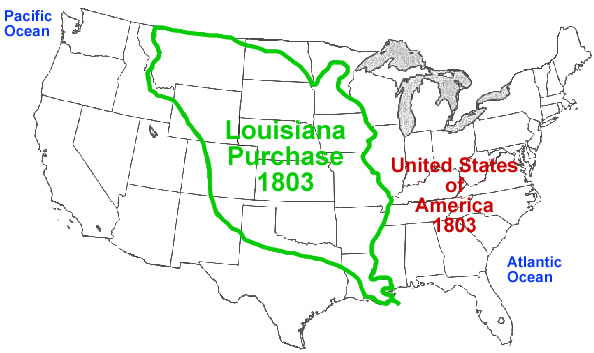 1. The United States made the Louisiana Purchase from
England.
France.
Spain.
2. The Louisiana Purchase was made by President
Washington.
Taylor.
Jefferson.
3. President Jefferson had the Louisiana Purchase explored by
Davis and Clark
Lewis and Clark
Lewis and Jefferson
4. The Louisiana Purchase included the states of Arkansas and
Louisiana
Tennessee
Kentucky
5. Lewis and Clark traveled through the land of the
Inuit
Seminole
Cheyenne